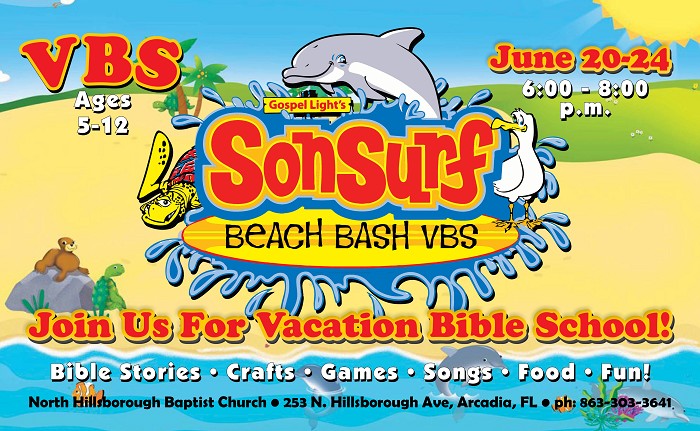 At SonSurf Beach Bash your kids will have fun in the Son. Children will have a great time singing songs, watching skits, creating crafts and playing games. But most important, when they meet up with Jesus they'll discover how much God loves them. Sonsurf Beach Bash is open to children ages 5 to 12. We look forward to spending time teaching your children about Jesus in a fun way that they will remember!
SonSurf Beach Bash begins on Monday, June 20th and continues through Friday, June 24th here at North Hillsborough Baptist Church, each day from 6:00-8:00 p.m. A commencement and family fun day will follow on Sunday, June 26th, with food and fun provided after the morning service starting at 11:00 a.m..
For questions, call Jerry at
863-303-3641
. You can pre-register for VBS here online, or you can register at North Hillsborough Baptist Church. This is a free event and all are welcome.